WordPress Analytics Plugin
Use Google Analytics and our SEO plugin to track the behavior of your visitors on your site and learn what you can do to optimize it. Alternatively, you can use our own counter with dashboard widget and view the traffic history.
Why Analytics
Google Analytics is the best website statistics out there. Because no other tool is so strong and easy to combine with other programs.
Other tools like Matomoto (formerly Piwick) or etracker can not be seamlessly integrated with other services like Google Ads (formerly AdWords), the Google Search Console (very important!) Or most marketing automation tools (formerly newsletter tools ) combine. The latter is better than our own counter with dashboard widget. This is only a solution, if really no web statistics is usable.
Settings
As already described, we only recommend our internal statistics if you do not use Google Analytics. If you enable internal statistics, you can choose which WordPress user groups are excluded from the visitor count and whom you are viewing the statistics widget.
From the Google Analytics Administration under the item "Tracking Information"> "Tracking Code" you will receive the code of the same name – in the following screenshot the place is highlighted in pink. If you do not use Google Analytics yet, you'll set it up first and make the initially-linked privacy settings. You then insert the entire tracking code in the designated field of our WordPress SEO Plugin. If you use Google Tag Manager, you can also paste this code. With Google Tag Manager, you can also include external tracking tools such as the Facebook pixel without programming in your page.
The following settings are for fine-tuning Google Analytics. As long as you have website traffic from the EU – which we can assume in Germany – you should have the IP addresses of your users anonymized. There is also a setting in the privacy policy, which we initially linked. To better match internal traffic and users clicking links to external pages, we also recommend that you track outbound clicks and downloads as events in Analytics. You'll find these hints in Analytics for a few days to weeks under Behavior> Events> Overview. We visualized this in the second screenshot below. For performance optimization, you can also host the Analytics and Tag Manager scripts locally. We update the scripts with every plugin update. Below you will also find a guide to the scripts per Cronjob itself constantly update. Furthermore, our plugin offers the option to generate an automatic opt-out code so that users can object to the tracking of Analytics. This option is also mandatory within the EU. The opt-out codes can then be installed by shortcode in the content of your privacy page or by PHP code in the theme of your privacy page (codes are visualized at point 5). There is also the possibility that Analytics and the Tag Manager will only be loaded after explicit agreement. We do not consider this necessary according to the current legal situation (as of 30.11.2018), unless you use X further tracking, but please consult a data protection expert.
We offer you the opportunity to show Google rankings directly in your WordPress system, if you use the SEO tool SISTRIX. If you do not use SISTRIX, you should link Google Anlytics to the Google Search Console so that you can monitor your rankings in Analytics.
SISTRIX is in our opinion the only useful addition to our plugin. Through the SISTRIX interface, our plugin queries the weekly rankings and their changes to the keywords you entered in the meta-tabs. You can define the necessary SISTRIX-API-Key here.
As explained in point 4, we recommend that you include the Analytics Out-Out link in your privacy policy.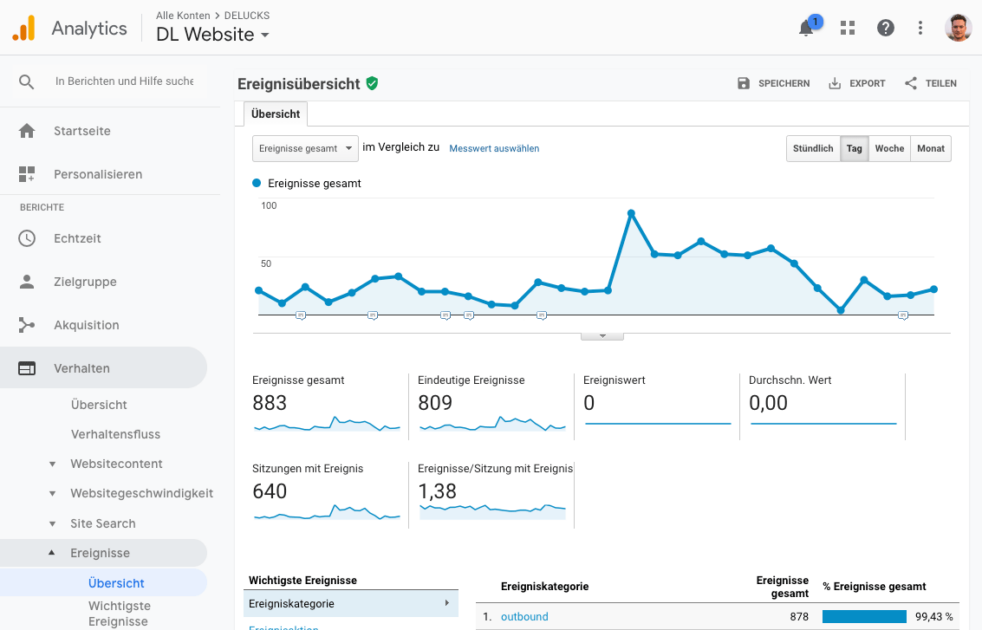 If you want to track even more events, such as clicks on certain buttons or the visibility of certain elements, you should use the Google Tag Manager. You can also set conversions in the Analytics Administration under Goals.
The safest form of conversions are specific landing pages, such as a confirmation after submitting a contact form or after a shop purchase. In order for you to set up the Goals, you must first redirect your visitors to such landing pages after such actions (you can do that in most contact forms and shop solutions directly or via the plug-in), then set up the Goals in Analytics. If you then combine Google Analytics with Google Ads, you can automatically optimize your advertising campaigns for more conversions.
Monitoring Rankgins
If you have linked Google Search Console under "Property Settings" in the administration of Google Analytics, you will be able to see the rankings of your site and all changes after a few days. This is the most important feature of Google Analytics from an SEO perspective. You can find the rankings in Analytics under Acquisition> Search Console and then e.g. on landing pages.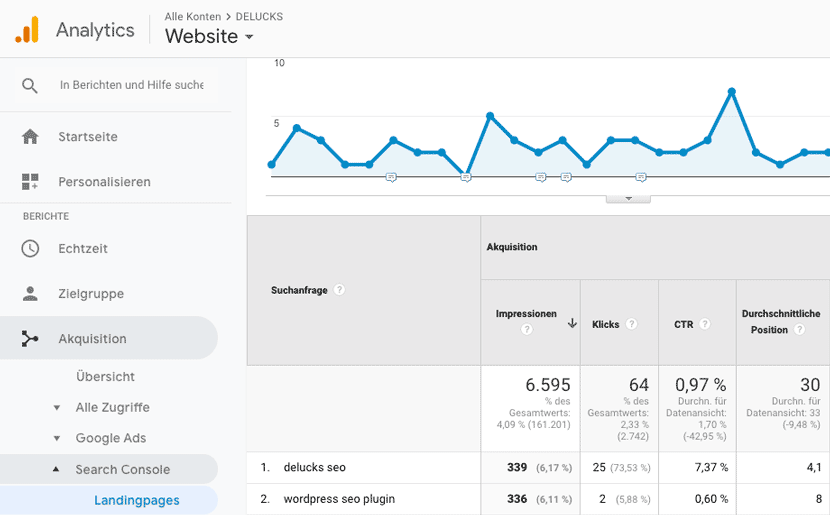 While you can monitor your rankings in Google Search Console or other SEO tools, no other tool will connect with your site visitors and their behavior, such as Google Analytics.